Just a quick update, I now have my very own JustGiving page for anyone who would like to sponsor my Mount Kilimanjaro Trek and donate to Parkinson's UK: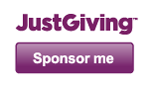 And as if that wasn't enough, there is also an even quicker, even easier way to sponsor me!
Just text: AMMM87 followed by £1, £2, £3, £4, £5 or £10 to 70070. The wonders of modern technology…
Any donations will be greatly appreciated, however large or small!